Wayne Velte's board "Egret" (pictured below) is a truly beautiful piece of art.  You can bid online for a limited time (November 1st through 10th) by visiting us HERE, or bid through the live Surfboard Art Festival Auction and Gala event on November 29th.  For more information click HERE.  His art piece is on exhibit at The Morro Bay Art Association on Main St in Morro Bay.
About the Artist:
I make art in order to process life. By creating visual art, I manifest questions that confound me, about myself, society, humanity. The answers to these questions may be blatantly obvious, or humorous, or so far beyond my comprehension, they might only be obtained through spiritual enlightenment.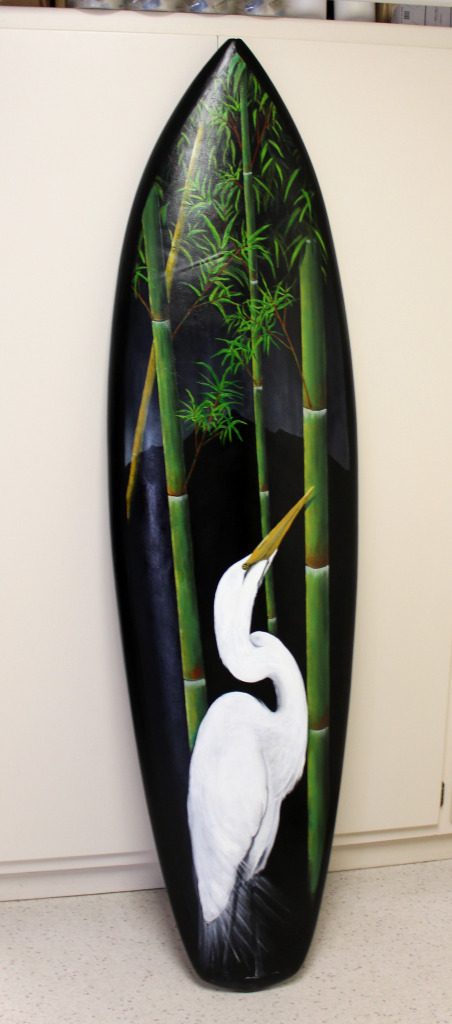 One of the most important questions I asked myself at the beginning of my current adventure, "How does a social-phobic, middle aged family man with little formal academic training, begin endeavors to become a vital creative element in the local art world and beyond?" In 2011 I made a life altering decision to give up a moderate paying yet stable position in an upscale southern California BMW dealership. This decision came as a result of a lifetime of questioning my true purpose in life and society. In my heart and soul I never felt content living and working toward a consumer based suburban lifestyle, yet societal logic told me that that is the measure of success. This nagging feeling of misdirection haunted me throughout my adult life, to the point of severe depression and anxiety. Finally, I reached a mental breaking point and could not resist the overwhelming urge to flee from my workplace or suffocate and die right there on the showroom floor.
During a three month leave of absence and hours of personal reflection coupled with intensive psychotherapy, I had an epiphany. No longer would I suppress my true creative nature, while striving to gratify my ego with material things. The answer to the question I had been asking myself all my life began to rise to the surface of my consciousness. "Who do I want to be?" Deep down, I had known the answer to that question all along…. "I want to be an artist." My wife and I resolved to sell our southern California home, get rid of as many unnecessary material possessions as possible, and find a simpler and slower paced way of life where we could raise our two sons in a modest, safe and nurturing environment while I chase after and cherish all things creative.