David Ramirez is an untrained, untailored street-influenced painter. At an early age, he started drawing cultural icons and images inspired by his Hispanic heritage. After moving to the Central Coast, he experimented with oil and acrylic paint. Painting, whether on canvas or recycled materials, is a spontaneous and mysterious process in which "the paintings paint themselves," says Ramirez.
Ramirez entered work for the Altadena Art on Millionaire Row Shows in 2010 and 2011. For "Lady de Guadalupe," he used oil pastels, acrylic, spray paints, and epoxy on plywood to make the image come alive. Ramirez received second place for this work at the Altadena Art on Millionaire Row Show in 2011.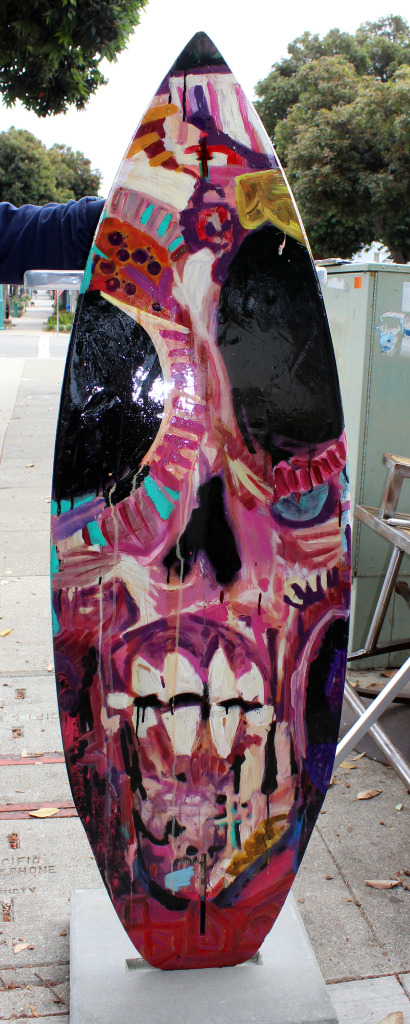 Ramirez calls himself modestly "a painter." However, he isn't like most painters possibly because of his renegade style of combining and layering different kinds of paints creating, at times, a collage of real and abstract images on a variety of surfaces.
The strong, sacred female presence appears in his works as well. Ramirez showed such works in the former Heaven and Earth Gallery for the "Buddha and Virgin Show." Ramirez's first solo show was at Mee Heng Low for Art after Dark 2012. Since his solo show, he created a piece for the Vapor Galleries' 99 cans of paint on the walls in 2013. Also, he showed work at Monterey Street Wines and Treat Paine Acupuncture for Art After Dark this year. Recently, he showed work at the former: A Vibrant Life in Morro Bay.